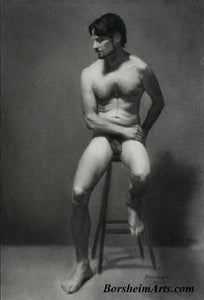 Charcoal Drawing on Paper
25 x 16 inches
SOLD, private collection in El Paso, Texas
PRINTS available
Ernesto ~Male Nude Drawing
Elegance.  This figure drawing was a joy to design and draw! 
PRINTS are available.  Just ask, please.
     Ernesto was my model for this charcoal figure drawing, as well as many works during this period while I lived in Florence, Italy. He was brilliant. He also posed for Relinquish, Entwined, Enough, and The Saint, among others.